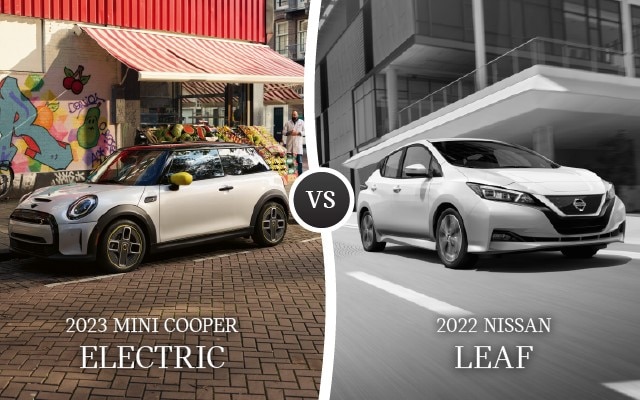 As we welcome a new electrified era of automotive innovation, many are left wondering which EV to buy. While electric cars aren't entirely practical for, say, someone in rural Wyoming, they're certainly an advantageous purchase for those who call urban landscapes like Miami home. And for those people, the smallest electric car wins.
Finding the best electric compact car usually comes down to price, and there are few EVs in the segment more affordable than the MINI Cooper Electric and the Nissan LEAF. Which one reigns supreme as a city-dwelling commuter car?
MINI Cooper SE: The Best Small EV for City Driving

A Blast to Drive
That go-kart driving style. The zip. Quick yet quiet acceleration. Everything about the MINI SE is a joy to experience. So much so, in fact, that it seems like MINI Coopers were
meant
to be electric. Crazy, right?
First and foremost, let's cover MINI Electric's pep, which it has a lot of.
"Mini's trademark go-kart handling impressed us. We also saw it sprint to 60 mph in a tidy 6.1 seconds, which makes it quicker than other small EVs..." - Car and Driver
As the experts at Car and Driver state, the MINI Cooper SE is perhaps the fastest small electric car on the market – or at least the fastest small EV priced within the average shopper's budget. During their testing, the Nissan LEAF only managed to get from 0 to 60 mph in 7.4 seconds
"Disable the traction control, and the Mini Cooper SE becomes downright hilarious. All that torque makes it easy to spin the front wheels like a hooligan – especially in corners, where the resulting understeer is easy to control with the throttle." - Tech Radar
How does it drive? As you'd expect, being a MINI, it's an absolute blast, especially when you engage its Sport driving mode. Even with its stiff ride, the MINI Cooper SE is tuned so perfectly, you'd think you were floating amongst the stars. And, in the grand scheme of things, who's to say you aren't? (But if you don't prescribe to that sort of existential logic, you'll find that maneuvering in and out of parking lots is just as fun as a romp through space.)
"Mini has created a fun performance EV with a distinct personality, and one that can easily double as a commuter car for many drivers." - Forbes
There's a reason why the MINI electric hatchback won the Urban Green Car of the Year award and is now the brand's best-selling model.
Charging Times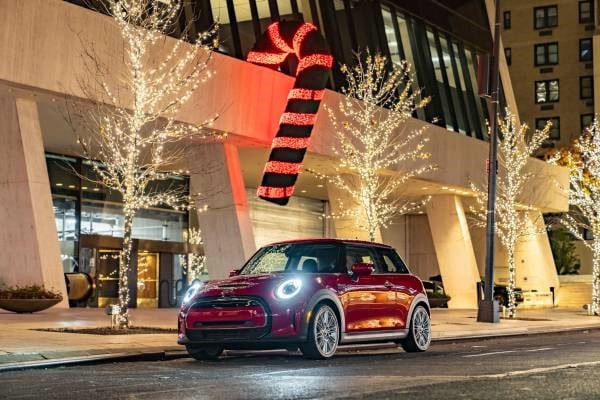 You'll spend less time charging and more time driving with the MINI Cooper Electric. In fact, because of its short charge times, the MINI Cooper SE is one of the best small electric cars for Miami drivers. Here's how MINI Electric and Nissan LEAF models compare at "the pump."
Level II EVSE

(7.4 kW)

DC Fast/Level III EVSE

(50 kW)

MINI Cooper Electric (32 kWh)

5 Hours

36 Minutes (0%-80%)

Nissan LEAF (40 kWh)

8 Hours

40 Minutes (0%-80%)

Nissan LEAF S PLUS (62 kWh)

11.5 Hours

60 Minutes (0%-80%)
If you spend most of your time driving to and from the city, the MINI electric car offers more convenience than the LEAF. Even with a lower driving range, the MINI SE is the perfect electric commuter car – no ifs, ands or buts about it.
Peace of Mind
While it's true that electric vehicles cost less to operate and maintain than a typical gas car – review these
pros and cons of buying an electric car
– not all EVs are built for longevity. To really compare which is the best small EV to buy, you should look at their warranties, side by side. Oh, hey! We did that for you!
MINI Cooper SE vs. Nissan LEAF: Warranty
| | | |
| --- | --- | --- |
| | MINI Cooper Electric | Nissan LEAF |
| Rust Perforation | 12 years/unlimited miles | 5 years/unlimited miles |
| New Vehicle Basic Limited | 4 years/50,000 miles | 3 year/36,000 miles |
| Roadside Assistance | 4 years/unlimited miles | 3 years/36,000 miles |
| Battery Limited | 8 years/100,000 miles | 8 years/100,000 miles |
| Free Maintenance | 3 years/36,000 miles | Extra cost |
| Loaner/Rental Vehicles | | See Roadside Assistance |
| Trip Interruption | Max $1,000/incident | Max $500/incident |
Order Your MINI Electric in Miami
Hop on a call with any of our Braman MINI salespeople to start building your perfect MINI Cooper SE today. We'll help you figure out whether to buy or lease a MINI, as well as how to get your $7,500 federal EV tax credit if you purchase a MINI Electric.
Contact us at (786) 374-2201 or visit our Miami EV dealership at 2060 Biscayne Blvd to see our selection of new 2023 MINI Coopers up close and personal.