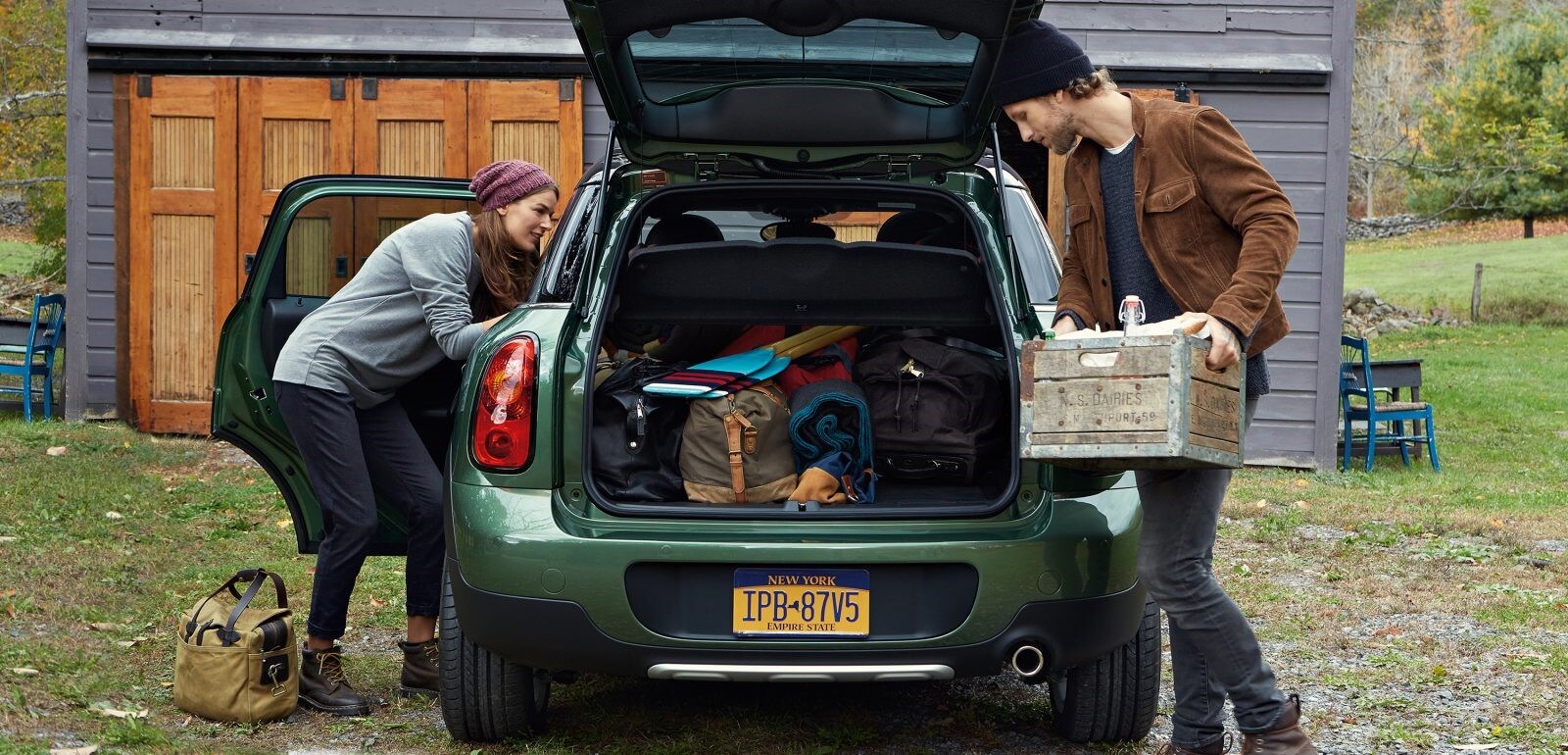 An
IIHS Top Safety Pick
. A
J.D. Power Dependability Award
. An
Automotive Science Group Best Social Performance Brand
choice. One of
KBB's 10 Coolest Cars Under $25,000
. Yes, MINI is no stranger to winning awards, yet there's one accolade that we're secretly extra proud of achieving: The 2021 Hipster Car Brand Award™.
MINI didn't originally set out to make hipster cars; young people and hipsters just collectively decided that MINI made the best small cars for showing off vintage clothes and handlebar mustaches. And who are we to argue with that? Could you even imagine a hipster queen like Zooey Deschanel behind the wheel of a giant, honkin' pickup or minivan? No, she's 100% MINI Cooper material, through and through.
Now, the Hipster Car Brand Award™ isn't real – we made it up, because that's how we roll – but it should be, and MINI would be the award's obvious winner every year. Here's why (plus a real hipster-ized cover song featuring a MINI Cooper S):
Built for Wanderlusters
Meet Harold Stanfield. Harold isn't what you would call a "hipster." What Harold is, though, is someone who loves his MINI like a second son. In fact, he loves it so much, he takes it everywhere with him. That's why his odometer reads 486,000 miles (and counting). If Harold and his MINI can travel the country, so can you.
Newer MINI Cooper and Countryman models are equipped with premium technology that cures your case of wanderlust. Tech like MINI's head-up display, which mimics the style of a jet cockpit with a retractable windshield screen. The HUD puts all essential info right in your line of sight, including your speed, stereo details, safety alerts, and turn-by-turn directions. Who needs a map, right? The world (and your MINI Cooper) will take you where you're meant to be.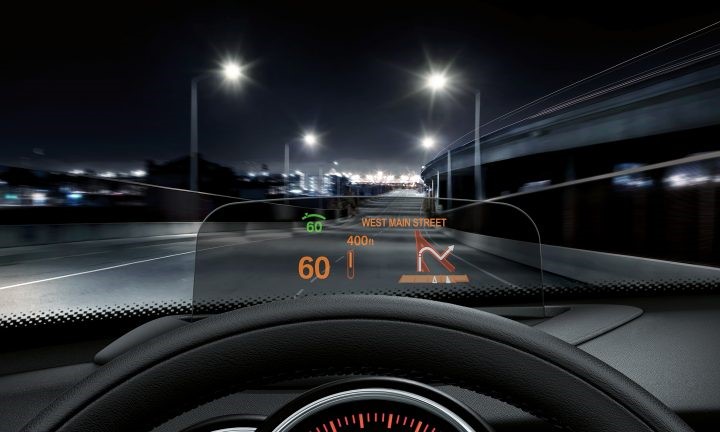 LED headlights with cornering technology are also available on several MINI cars. These special headlights automatically level themselves and adjust their angles in relation to the road. Cornering technology illuminates your turns when your steering wheel rotates, so you'll be able to see that deer crossing the road way ahead of time.
MINI Connected keeps you dialed into your favorite murder podcasts, indie lo-fi playlists, and other Spotify or Pandora stations. It's specifically tailored for your favorite tunes and apps, so all you have to do is use the screen's intuitive controls to get your groove on.


Then there's Journey Mate, the ultimate trip-planning app. MINI keeps you connected to the app to coordinate everything on your journey, including offering real-time traffic alerts, weather notifications, calendar appointments, and even options to select gas stations when your MINI needs a fuel-up.
Of course, even the best-laid plans of mice and men can go awry, which is what MINI ASSIST eCALL is for. When you get into a jam, hit the eCALL button to send an S.O.S. to MINI's response center. Your vehicle will send your location and all pertinent info to a qualified representative, who will then get you the help you need.
Let's not forget the annual MINI Takes the States event, in which thousands of MINI owners and their Coopers and Countryman vehicles "zig, zag or bust" around the country. If you've ever wanted to travel the continental US, join the MINI community that does just that.
All this tech makes a case for MINI not only making the best cars for hipsters, but the best cars for young people, period.
Free MINI Maintenance


As a MINI owner, you don't have to worry much about paying for your oil changes because they're free! That's right. Every new MINI purchased at our Miami MINI dealership comes with complimentary maintenance for the first 3 years or 36,000 miles (whichever comes first). All scheduled maintenance is included, such as MINI oil changes, inspections, brake fluid service, engine air filter replacement, and more.
To learn more about the complimentary MINI maintenance program, contact your Braman MINI Miami service center.
Spacious When Space is Needed
Although MINI is known as the maker of the best small cars (and the best cars for short people), there's a lot more than meets the eye when you open those doors. Check it: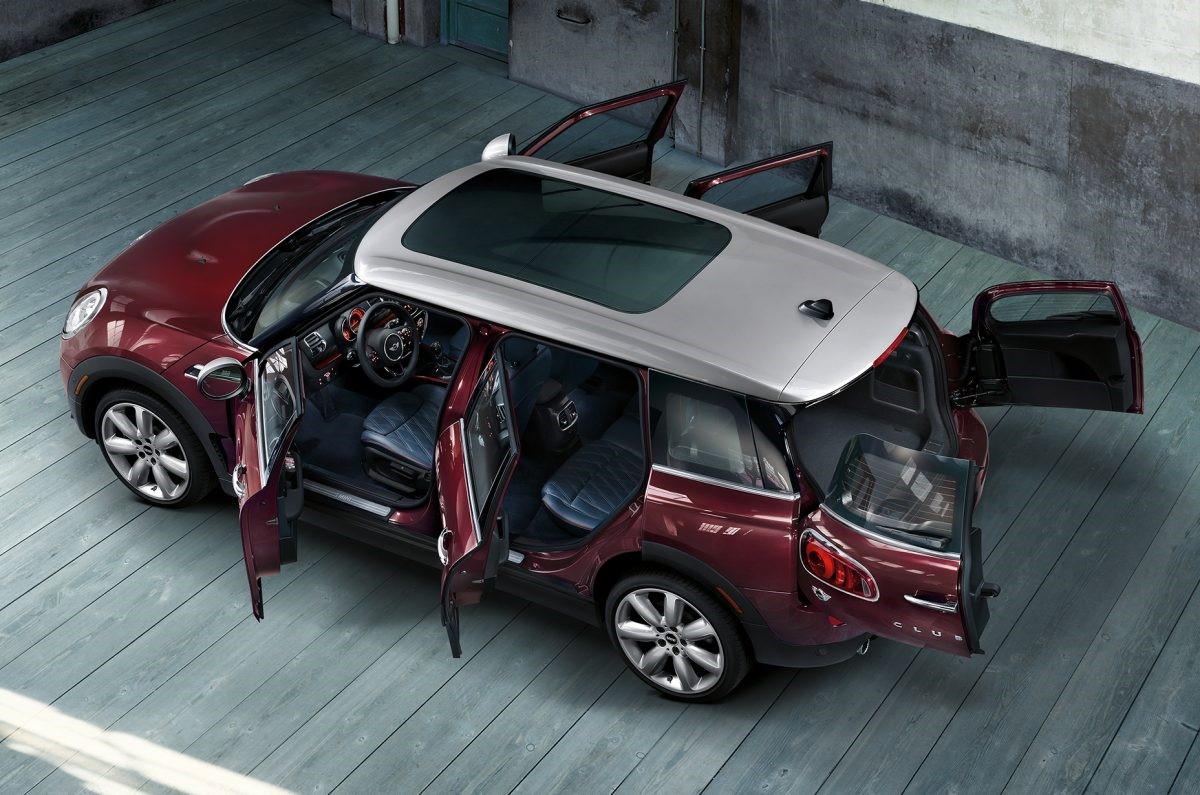 See that? That's not just a MINI Clubman – that's world-class versatility. Boasting a surprising 47.9 cubic feet of max cargo space, the Clubman is one of the most spacious small MINI models available. It includes adjustable seats and floor panels that can be positioned to accommodate loads of luggage, a few guitar amps, and your collection of hacky sacks.
If you're not cut out for young adult cars that seat 2, move into one of the larger MINI vehicles, like Hardtop 4-Door Cooper or Countryman. They're like clown cars, minus the clownish physique.
With the 4-door Cooper, you get the brand's iconic "go-kart" drivability mixed with seating for 4 full-grown adults. As one of the best rated small SUVs, the MINI Countryman offers the same, just more of it. That means up to 5 passengers total, ALL4 all-wheel drive, and the option to choose a plug-in hybrid Countryman model. Go green, ya'll!
Bonkers Accessories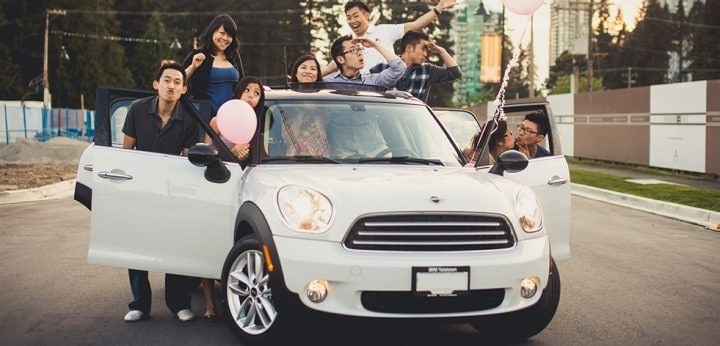 You won't find better or more popular cars for young adults than a MINI – unless it's a decked-out MINI. When you visit your official
MINI Cooper parts store near you
, you'll have access to hundreds of genuine accessories that will really make you stand out. We're talking British mirror caps, silver exhaust tips, hand-crafted gear shift knobs, one-of-a-kind roof graphics, and more. Your personality is you, so get a car that can keep up.
About Braman MINI Miami
Located at 2060 Biscayne Boulevard in Miami, FL, Braman MINI offers great pricing on new and used MINI vehicles for sale, expert service, parts, accessories and more. To get a quote on one of the best cars for young professionals such as yourself, contact our auto dealership at (786) 374-2201 today. We'll hook you up before everyone else jumps on the MINI bandwagon (posers).