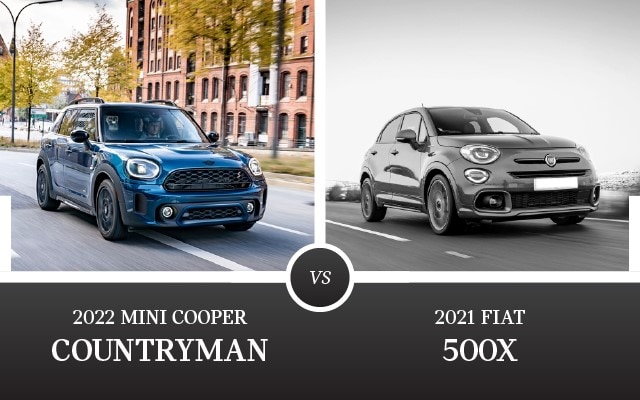 If you're trying to find the
best small crossover for sale
, you've undoubtedly crossed paths with MINI and Fiat along your research journey. Both automakers are "small vehicle" brands – that is, they sell mostly small vehicles, obviously – and they know what works best in a limited amount of space. What we're getting at is this: Just as you wouldn't buy a full-size pickup made by Fiat, you shouldn't necessarily choose a subcompact SUV made by, say, RAM. It's logical to stick to companies that understand their products.
Two of those products, the 2022 MINI Countryman and 2021 Fiat 500X, are perfectly suited to drivers who want a reduced carbon footprint and the versatility that comes packaged with a traditional SUV. But which one's the best subcompact SUV to buy? Let's see how the new Countryman and 500X compare where it matters most.
Cargo Volume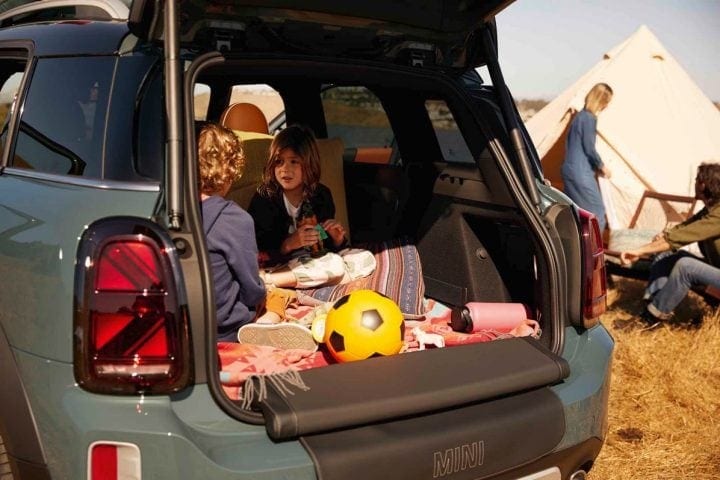 Maximizing every available inch of room is what's powered MINI and Fiat over the decades. Even in small crossovers like the 500X and Countryman, you'll find there's a surprising amount of space for everything from golf bags to IKEA boxes.
However, there is a winner, and it's the MINI Cooper Countryman. In the trunk of the new Countryman, you're awarded 17.6 cubic feet of space; fold the back row down to expand cargo volume to 47.6 cubic feet. Cargo volume in the Fiat 500X maxes out at 39.8 cubic feet, which is 7.8 cubes less than the MINI Countryman. (That's equivalent to nearly 60 gallons of milk.)

Winner: Countryman
Passenger Space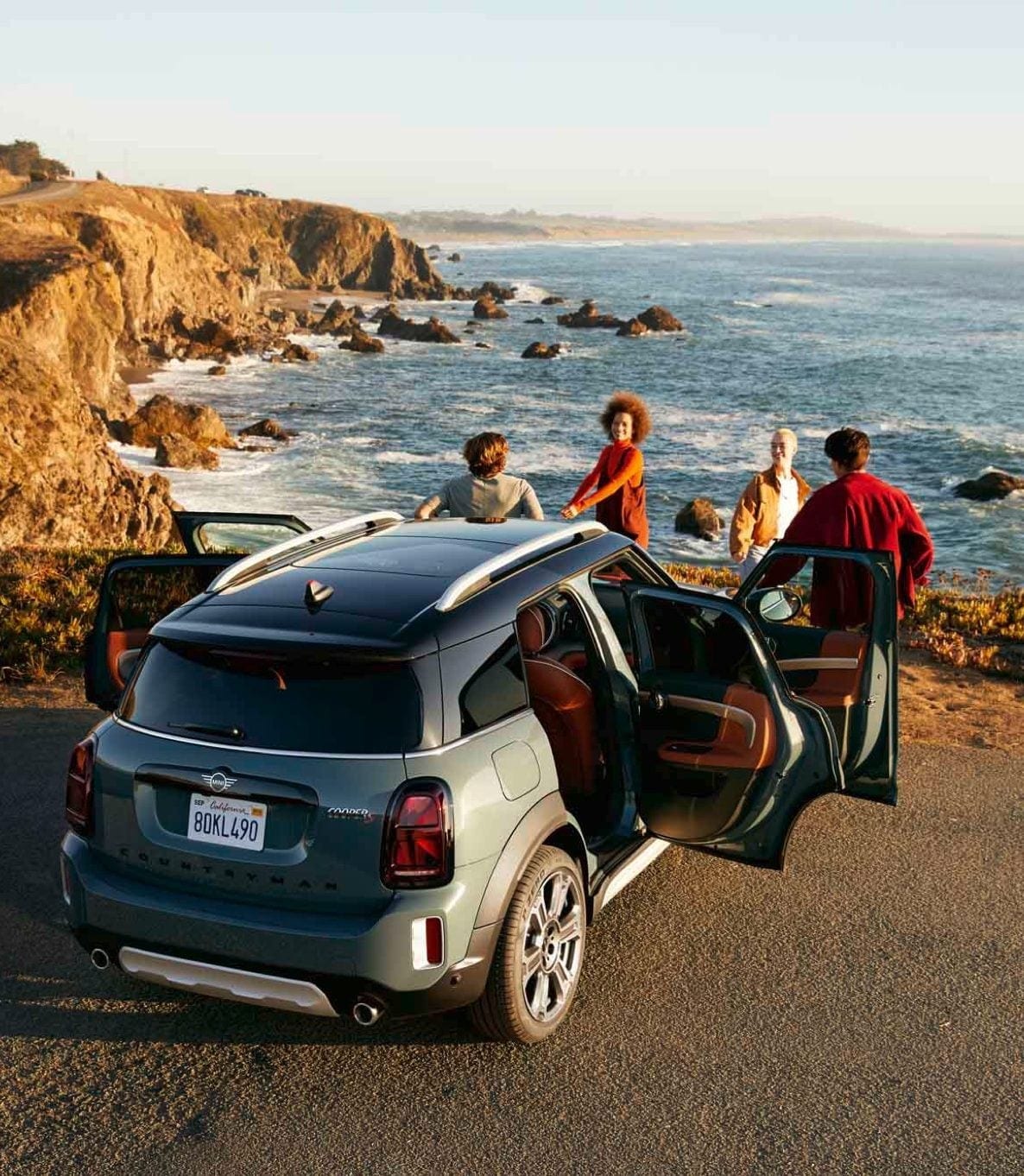 It's unlikely you'll be taking the band on a cross-country tour in either the Countryman or 500X. Still, these good small SUVs have enough space to keep you and a few friends comfortable during shorter trips.
Fiat's 500X boasts 92 cubic feet of livable passenger room, though its interior dimensions are somewhat muted compared to the 2022 Countryman, MINI's largest vehicle. Here's how 500X and Countryman specs compare, side by side

| | | |
| --- | --- | --- |
| | 2022 Countryman | 2021 500X |
| Headroom (front/rear) | 40.5"/38.3" | 39.1"/37.8" |
| Legroom (front/rear) | 40.4"/37.6" | 41.4"/34.8" |
| Shoulder Room (front/rear) | 54.8"/54.0" | 54.3"/52.8" |
In every category except front legroom, the new MINI Cooper Countryman beats the 2021 Fiat 500X. It's far more spacious for back-row passengers, as well.
Winner: Countryman
Fuel Efficiency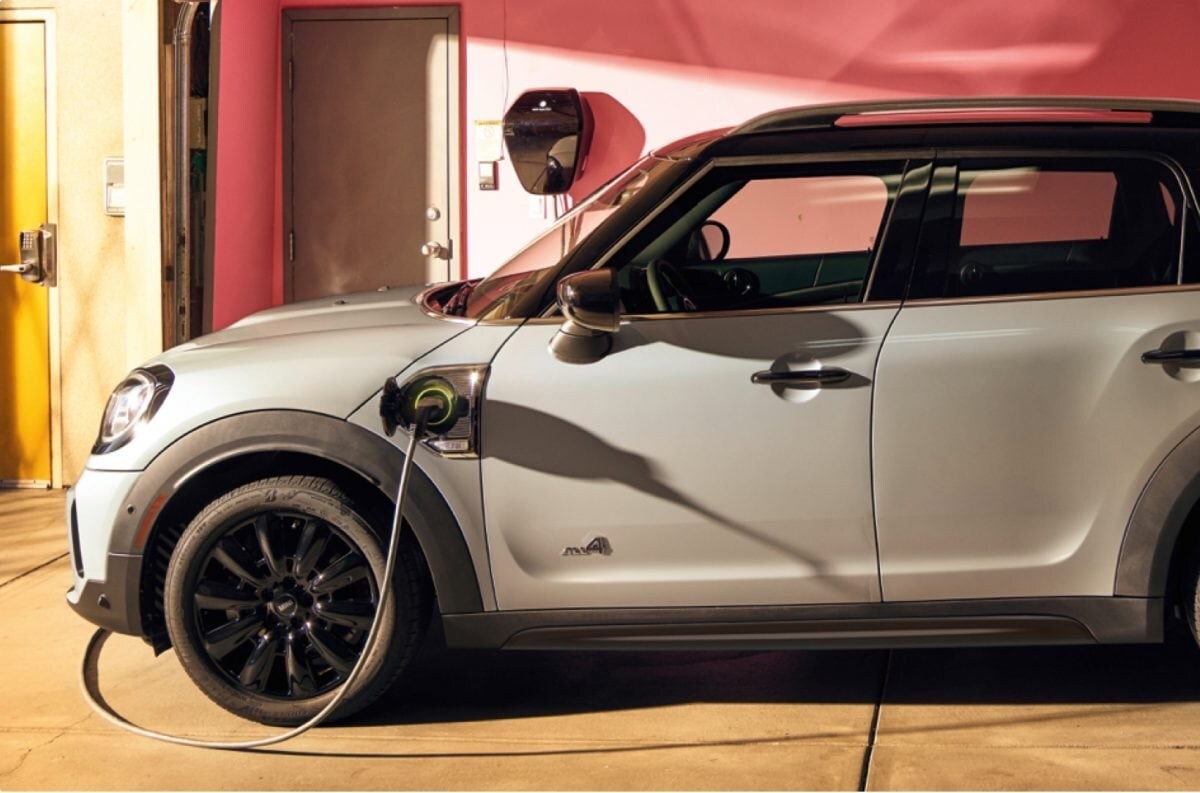 One big advantage to driving a small SUV as opposed to a behemoth is better fuel efficiency. Both the Fiat 500X and 2022 Cooper Countryman have comparable EPA-estimated mpg ratings – 24 city/30 highway for the Fiat and 26 city/33 highway for the MINI – but the
new MINI Countryman PHEV
takes the cake.
With an EPA estimated 73 MPGe, the MINI Cooper SE Countryman plug-in hybrid is far better on gas than the Fiat 500X. It can travel up to 300 miles between fill-ups – 17 miles on all-electric model – and its EV battery only takes 2 ½ hours to charge to 100%.
To build a plug-in MINI Countryman in Miami, or to learn more about this electric SUV, contact Braman MINI of Miami at (786) 374-2201.

Winner: Countryman
Engine Options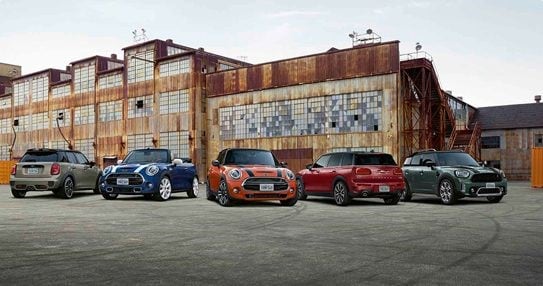 All 2021 Fiat 500X models are packaged as AWD SUVs that come standard with a 1.3L inline-4 engine that makes 177 horsepower. Even 500X's so-called Sport trim is equipped with this lackluster powertrain.
Many more engine options exist when you venture into the MINI Countryman lineup. In its base models (Cooper and Cooper ALL4), the Countryman makes use of a 134-horsepower 1.5L twin-turbo engine. However, step up to a Countryman Cooper S or S ALL4, and you're rewarded with a 2.0L twin-turbo 4-cylinder that puts out 189 hp and 206 lb-ft of torque.
If that's not enough juice to get your morning revved up, slide into a Countryman John Cooper Works model. You'll get a double VANOS twin-turbo 2.0L engine that rides on 301 ponies and makes a flabbergasting 331 lb-ft of torque.
Winner: Countryman
Forget Fiat. Pick MINI.
Recently redesigned
, the new MINI Countryman offers more space, more comfort, and more variety than the aging Fiat 500X. It's a smarter choice, all things considered, and won't look too shabby in your driveway, either. In fact, it'll look quite adorable.
Ready to test drive the MINI Cooper Countryman in Miami? We're ready to get you behind the wheel, too. Visit our South Florida car dealership at 2060 Biscayne Blvd in Miami to speak with a member of our MINI sales team today. We'll show you the MINI-ownership ropes and put you on the road in one of the best small vehicles in America.