Excited to make your very first MINI Cooper purchase? Hold your horses. Before you bring your luxury car home or even put your John Hancock on any document, it's important to research and consider all your options – which can be a daunting task in and of itself.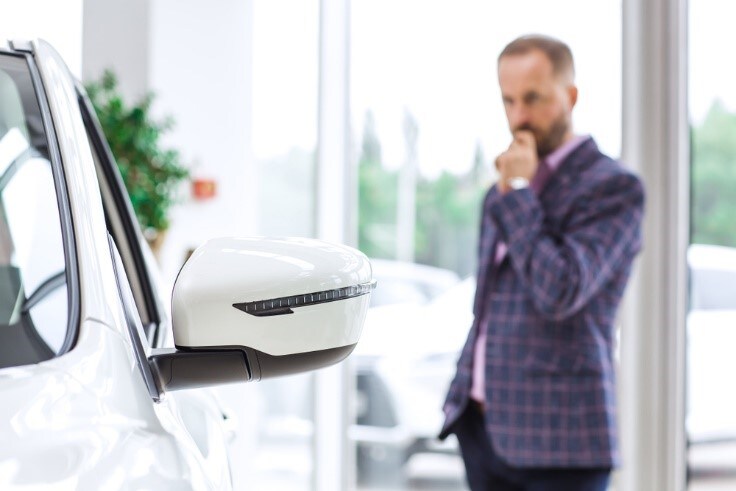 If you need help getting over the hump, these 14 tips should do the mind and body good. Take our advice and ensure you're purchasing the best MINI from the
best luxury car dealership near you
.
15. Check Out All MINI Models
Choosing MINI was step one. Figuring out
which MINI to get
is next on the list. Look through all the available new MINI vehicles at your dealership or online to compare and contrast features, prices, specs and more.
14. Needs vs. Wants
Do you need that
MINI Convertible
to soak up the Florida sun? If your budget says "no," but your mind says "yes," you'll have to weigh the pros and cons of paying more for the electrically powered soft-top that can fold up in a smooth 18 seconds. Otherwise, your pockets may thank you for building and customizing the affordable
MINI Hardtop
.
13. Read Reviews
Get to know all the MINI models even more by reading critic reviews on popular sites like
Car and Driver, Motor Trend
and
U.S. News
. But don't just settle for the professional MINI reviewers' words; also check what MINI owners are saying at sites like KBB and Edmunds. This enables you to gain valuable insight from both experts and drivers like yourself.
12. Visit the MINI Dealer Several Times
While it might be tempting to buy a new MINI right away, be prepared to leave the MINI dealership on your first visit. It's always a good idea to sleep on your decision for a weekend after a test drive. You may end up deciding that that MINI 2-door wasn't large enough, and you'd be better off going with the
4-door Cooper
. A good night's rest can be eye-opening.
11. Get Trade-In Estimates
If you're swapping your current vehicle for a MINI, you should get trade-in quotes from all the local car dealers near you. Do this at least 1-2 weeks before you visit a dealership, which will allow you to see what your vehicle is really worth as a trade-in, on average.
Need to
value your trade-in Miami
? We can help!
Fill out this trade-in value form
to see how much we'll pay for your vehicle.
10. Identify Market Value
Going with a used MINI instead of new? (Always a good bet.) You should never make or accept an offer when buying a pre-owned car before first seeing what its market value is. Then you can start negotiating on price with that value in mind.
9. Choose the Best Time to Buy
Here's a little secret most car dealers don't want you to know: You can time the market to get the best deal on a new car. Here's how:
Purchase a luxury car on a weekday instead of the weekend.
Identify when a new model is being released and ask the dealer about sales on the outgoing model.
The end of the year is busiest for dealers, but you can get good MINI lease offers and finance specials around the ho-ho-holidays.
8. Test Drive—A Lot
Test drives are like the samples at Costco – you should take as many as you want or need to make a decision. Test drive every MINI model you're interested in. And don't just settle for models, either; test drive the model's specific trims to see what the main differences are and if they're worth the extra costs.
7. Get a Vehicle History Report
To top it off, always request a vehicle history report for used cars. Good car dealers like Braman MINI will provide car history reports on the vast majority of used vehicles, but if you purchase from smaller used car lots near you or from a private seller, you may have to ask for one. In all actuality, a CARFAX should be the very first item you request from your auto dealer.
6. Consider a Pre-Purchase Inspection
It behooves the buyer to be cautious with pre-owned cars, particularly from private sellers or used car lots. If you can't get a full vehicle history report, you may want to get a pre-purchase inspection from a professional and trusted mechanic to identify any potential problems.
5. Know your Budget
Get your credit score, pool together a down payment, and figure out what you can realistically pay each month for your new car. An
online car payment calculator like ours
can work wonders to help you get organized, but you should also keep one number in mind: 15%. That is, expect to pay no more than 15% of your annual salary for your car each year – this includes your monthly payments and all fees, taxes, and insurance and registration costs.
4. Consider an Electric Car
The future is coming. Are you prepared? With an electric car like the upcoming MINI Electric, you'll be among the first drivers to embrace that future. The MINI Electric car is fully loaded with standard features like Apple CarPlay and heated seats, and it can go up to 110 miles on a full charge.
To learn more about or to
buy the MINI Electric in Miami
, contact Braman MINI today. Welcome to the 21st century.
3. Lease...
Would you do better with a MINI lease or loan? Each option has its own list of pros and cons, and you should go over those with a fine-tooth comb before coming to a decision. Here's a brief rundown of the benefits of leasing and buying a vehicle:
Lease benefits
Lower monthly payments
Fewer hassles (return and walk away or buy)
No depreciation
Low maintenance costs
Always under warranty
2. ...Or Buy?
Financing benefits
Eventual ownership
Build equity
No mileage or customization restrictions
No monthly payments (eventually)
Lower insurance premiums
1. Pick the Best MINI Dealer
Not all car dealerships are worthy of your attention. It's a good idea to research the best luxury car dealers in your area, including those outside your ZIP code, to ensure you're not going to get taken advantage of. Even if you have to drive an extra 10 minutes, it will be worth it. To identify a good car dealership, you'll want to ask yourself the following questions:
Looking for a new or used MINI in Miami? We're the place to shop. Contact Braman MINI of Miami at (786) 374-2201 for a quote on a Cooper, Clubman, or Countryman today. Our MINI dealership is
located at 2060 Biscayne Blvd
, and we proudly serve the entire South Florida region.