John Cooper Works (JCW) MINI vehicles enhance the spirit of the brand with innovation that makes the vehicle even more sleek, powerful, and truly MINI. If you want the full MINI Cooper experience that takes you back to the brand's motorsport roots, test driving a new John Cooper Works edition MINI should be at the top of your priority list.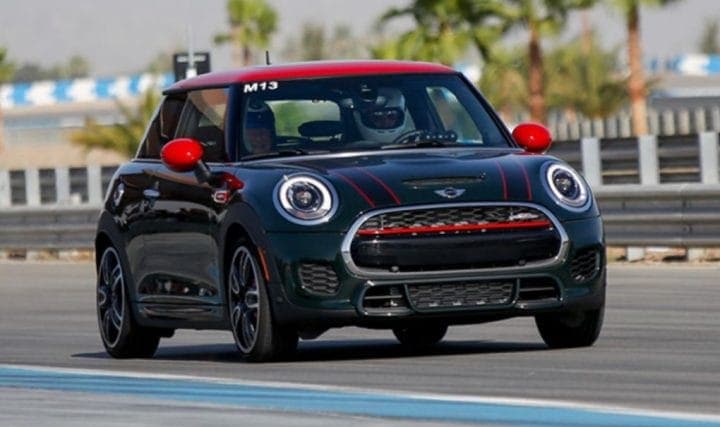 History
The story of the MINI Cooper began in the late 1950s, when gasoline was rationed in England due to the Suez Crisis. The Classic Mini was created as a solution for those looking for affordability and heightened fuel economy while transporting four people. It didn't take long for the car to find popularity not only for its original intent, but for its quirky spirit, nimble handling, deceptive interior space, and ultimately, exceptional performance.
In 1961, British racing legend John Cooper took over development of the Mini and revamped it with a more powerful engine, better brakes, and some fine-tuning. Shortly after, in 1962, Pat Moss made history when she earned the Mini Cooper its first motorsport victory at the Netherlands Tulip Rally. Since that time, MINI has won many races and titles in the world of motorsport and continues to stay at the forefront of vehicle innovation.
Performance
Armed with a turbocharged engine ramping up to 228 hp, the John Cooper Works MINI Hardtop 2 Door and Convertible are designed for those who love speed. The dual-outlet sport exhaust demands attention as it glides through town or countryside. Optional Nitro suspension with adjustable front and back dampers allow smooth handling of the MINI on all roads under all conditions. Mintex brake pads formulated for JCW provide proficient braking power with excellent resistance to corner on track. Quaife limited-slip differential further aids traction ensuring drivers stay in control under all conditions. There is no doubt the performance of the JCW MINI Cooper line is top notch.
John Cooper Works editions of the Clubman ALL4 and Countryman ALL4 take power to the next level with 301 hp and 331 lb-ft of torque. These enhancements send these heavier vehicles screaming from 0-60 mph even more quickly, at just under 5 seconds!
Designed to Impress
John Cooper Works trim levels enhance 4 unique models (Cooper 2-Door, Convertible, Clubman, and Countryman) to fit everyone's personal taste. Two-tone color schemes are exclusive to the John Cooper Works models and truly make them stand out from the crowd. If you love the feel of a convertible but the look of a hardtop, MINI John Cooper Works editions have panoramic sunroof options to make your car even more versatile. A full-body aero kit including side skirts and an all-black grille visually convey the car's abilities through sleek design and trimmed-out performance.
Interior Comfort and Luxury
Though even the most spacious MINI is relatively small, JCW MINI Cooper models are designed for those seeking luxury and comfort. From the steering wheel to the upholstery, drivers have the feel of an exclusive grand tourer when they get in the driver's seat. The leather steering wheel with music controls boasts an ergonomic sports design to assist control. The sport seats are standard Carbon Black Dinamica microsuede upholstery but can be upgraded with power adjustment and heated, and replaced with leather.
The center console maintains the signature MINI circular design. Upgrade options of Navigation Plus with Apple Carplay capability and SiriusXM radio make any road trip enjoyable. Whether you are going for a Sunday drive, taking a road trip, or rally racing, you will love the interior comfort provided in John Cooper Works models.
While all MINIs are world-class vehicles, John Cooper Works MINIs exceed expectations. The design is built for speed, agility, and superior handling. The exteriors are both visually striking while performance driven, and the interiors are luxurious with ample opulent upgrades available. The casual driver and the driver who loves speed will both appreciate the upgrades provided in JCW models.
If you are interested in a new MINI John Cooper Works vehicle, shopping online at Braman MINI of Miami is a fantastic place to begin. Then you can schedule your test drive at our Miami MINI Cooper dealership, or you can even contact us and we'll bring the MINI test drive experience to you.
Sources:
https://www.motortrend.com/cars/mini/clubman/2020/2020-mini-john-cooper-works-clubman-first-drive-review/
https://www.caranddriver.com/reviews/comparison-test/a27305478/2019-mini-cooper-jcw-hardtop-transmission-by-the-numbers/