Extremely high temperatures and oppressive humidity during the summer – or just about every day in South Florida – can pack a sweat-inducing punch. When it gets unbearably hot out, people tend to stick to the comforting confines of their air-conditioned home or office. Cars, on the other hand, don't get that luxury.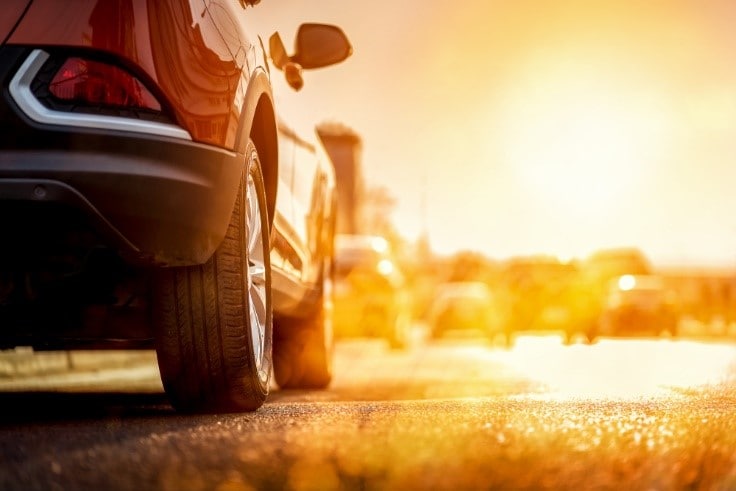 If parked outside, your car gets pelted continuously with UV rays that can truly wreak havoc on everything from its dashboard to its tires. Even a garaged vehicle can experience excessive heat that can lead to trouble over time, if the garage isn't fully climate-controlled.
Combating that extreme heat and humidity takes a little extra effort on your part, but in doing so you'll extend the life of your vehicle substantially. Here are our 10 tips to help you and your car "beat the heat."
10. Protect the Interior
When left in direct sunlight for as little as two hours, your car's internal temperature can exceed 200°F – hot enough to bake chocolate chip cookies. Delicious treats aside, imagine what that type of constant heat could do to your dashboard and upholstery.
Applying an interior protectant is great, but you can also protect your car from the sun by covering as much of the inside as possible. Consider buying OEM car seat covers, steering wheel covers, and sunshade visors to reduce as much UV exposure as possible. (This is especially crucial if you have a MINI Countryman with leather seats.)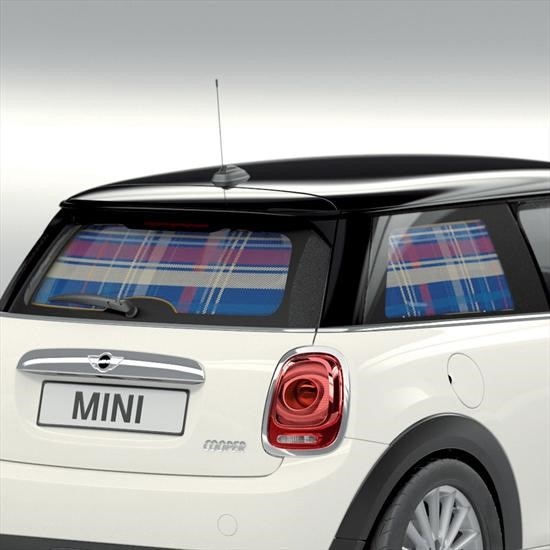 Windshield sunshades are excellent, affordable options. As an added oomph, you can even invest in rear shades with special designs, such as Speedwell Blue (above) and Vivid Green sunshades for the Mini Cooper. Speak with your dealership to ask about your options.
9. Protect Against Salt Damage
Living in Miami, you should expect the high humidity to do extra damage to your vehicle over time. The saltwater can corrode metal, erode car paint, and cause rust unusually fast.
The best way to protect from that saltwater and humidity is to wax your vehicle at least twice per year – or preferably once per season. A good wax or sealant is crucial, as well, since these applications will ensure your vehicle's clearcoat isn't deteriorating. (Think of car wax as the automotive world's version of sunscreen.)
Additionally, park indoors as often as possible, or buy a fitted cover to place around your car when it's outside and not in use. This will thwart the humidity goblins from nibbling on your vehicle's frame.
8. Replace Wiper Blades
Rubber and plastic deteriorate when exposed to high temperatures. Windshield wiper blades are made of rubber and plastic. Ergo, your wiper blades are more likely to get ruined when it's too hot out. Plan to replace them two to three times per year, or whenever they begin to leave streaks on the windshield.
7. Check the Tires
Tire blowouts are real – and really dangerous. Without proper care during the hotter months, tires can overinflate and degrade more quickly, causing sudden tire blowouts at any moment.
Monitor the pressure in each of your tires periodically to ensure they meet the proper PSI benchmark set by the tire manufacturer. Relieve pressure as needed if the PSI is too high.
If your tires have seen better days, it might be time to bring your car into the service center for a tire inspection. Your service technicians will analyze your tires' tread depth and inform you if (when) it's time for replacements. Listen to them, as old, worn-out tires make driving very hazardous.
6. Check Battery Life
Did you know that exposure to extreme heat and humidity can reduce a normal car battery's lifespan by half?
Cleaning corroded battery terminals is a great task to perform if you live in humid, tropical environments. Doing so can effectively increase the life of your car battery. (Baking soda, water, and an old toothbrush are the only tools you need in most cases.)
If your battery is more than five years old and has taken on the heat for too long, it may be time to install a new one. Your car service center can test your current vehicle battery and install the new one for you, if necessary.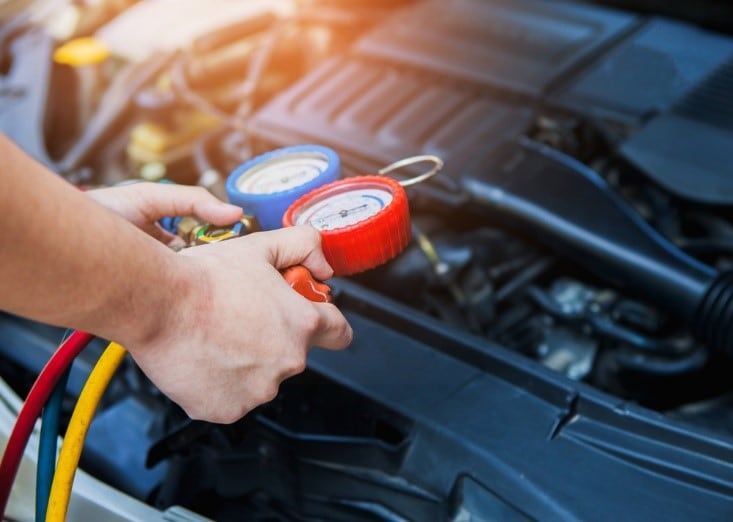 5. A/C Repairs
Tired of sweltering in the oven you call a car? An underperforming air conditioner could be the culprit.
Mechanics will be able to test your car's air conditioning system to see if there's anything wrong with the compressor or hoses. If so, AC repair can solve your problem. You may just need to recharge your AC system, too.
4. Choose Shade
This one's simple: Always try to park in the shade whenever possible.
3. Dehumidify
Even in a shaded garage, humidity might still be a problem. Removing that humid air from your storage area is key. A dehumidifier works well in smaller spaces, and properly constructed and insulated exterior walls will reduce the level of indoor humidity.
2. Get a Car Wash
A clean car doesn't just look good; it can block radiant heat and bounce UV rays off easier than dirty cars. You should be washing your car, preferably by hand, as often as you can during the hotter, more humid months of the year. Cleanliness is next to godliness.
1. Regular Maintenance
Following your routine maintenance schedule will enable you to correct any minor issues before they can evolve into major ones. Even topping off the fluids in your vehicle before summer can stave off most problems through the hotter months. Contact your Braman Miami technician for assistance if you need help remembering when to venture into the shop for service.
Need MINI Maintenance in Miami?
Keeping an eye on your car, buying OEM accessories and making good decisions: That's how you keep your vehicle protected when the heat becomes insufferable.
If you require a helping hand with your car in South Florida, contact our
Miami auto service center
at 786-577-5210 or
schedule an appointment online
. Braman MINI of Miami performs work on all
MINI models
, and our service center can handle all types of vehicles. We also offer a complimentary
MINI Maintenance Program
standard with every new MINI vehicle, which covers your vehicle for 3 years or 36,000 miles and is renewable for years to come.